So, you've finally written a dating app bio you're really happy with, but you're struggling with what photos to use on your dating profile. Having the right photos on your dating profile is, as we know, the difference between a busy successful dating life and tumbleweed in your message inbox.
We spoke to Saskia Nelson, the founder of the UK's first dating photography agency, Hey Saturday. She kick-started dating photography as a new genre and wrote the rules on what photographers need to do to help their clients create gorgeous dating profile pictures that attract better quality matches online.
Your profile photos are your sizzle reel
Your dating profile pictures are more than an opportunity to show people what you look like. They are an opportunity to show them what you're made of.
Your set of dating profile pictures, if done well, should enable you to visually share the story of who you are. And the more stories you can tell with your profile pictures, the more you'll be able to reveal to people just what it's like to be in a relationship with you. That's powerful stuff.
Think of your dating profile pictures as the sizzle reel, or trailer, to your life. People are looking at your sizzle reel and making important life-changing decisions – like whether to connect with you or not – in mere fractions of a second.
So how do you stop them in their tracks? How can you pique their interest enough to make them decide to reach out and connect with you?
Start with self-awareness
If your profile pictures are the sizzle reel, you need to take a good look at your life and lifestyle and figure out what the highlights are. And then work out how you can capture those in your profile photos.
A good starting place is to take a moment out of your day and ask yourself some crucial questions:
What am I passionate about?
What unique experiences have shaped who I am?
What makes me stand out from others?
What are my core values?
Write down the answers so that you really take the time to work through these. You're trying to figure out what you're all about. What your personal brand is. What are the things that set you apart from everyone else? Who are you in essence? What you're doing is figuring out what the elements of your story are.
Your answers will help you get to the essence of what matters to you most and what you might be looking for in a partner.
If you can capture this well in your dating profile pictures, it will be the reason why people will want to swipe right on your dating profile over other people's. Not just any people though, but people who will resonate strongly with who you are at heart.
Capture your story in your profile pictures
You're now taking charge and actively shaping the narrative in your profile. That's powerful. So, remember, people are trying to learn about your lifestyle, your energy and your vibe from your profile photos.
Here are three simple, but compelling, elements you can focus on to achieve this:
Location
The location you choose for your shoot can give people a lot of clues about your lifestyle. Choose somewhere familiar where you feel comfortable or go somewhere where you love to hang out. Or just head somewhere that appeals to your aesthetic.
It could be your local café or favourite bookstore, a walk by the canal near your house, browsing at a vintage market, or hiking in the woods.
Not every photo needs to provide context like this. You need photos that really just focus on you. For those photos, choose a simple background, absolutely nothing messy behind. And ideally something with some bright or bold colour in it.
Clothes
The clothes you choose to wear are a crucial way of telling people who you are and what you represent. Clothes can reveal everything from social status, lifestyle, vibe and personality.
So, what do want your clothes to say about you? That you're feminine, confident, stylish, a hipster, cool, comfortable, sexy, independent, outdoorsy, glam…? Choose outfits that reveal as many facets as you want to showcase, so that you can give them a good insight into your personality.
Think about wearing some bold colours too – red, orange, greens and/or blue – they all work well in photos and help you stand out from the crowd.
Your clothes can control how other people perceive you, so maximise this opportunity to reveal important information about you.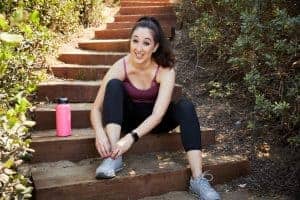 Props
The thought of including props in your photos might make you feel a bit cringy, but in reality they can be your superpower making people curious to find out more about you and giving them something to ask about in messages to you – making that first contact easy.
People respond favourably to fit and sporty people on apps, so that's a great starting place. Bring your yoga mat, your boxing gloves, your tennis racket, your running gear whatever is easy enough to carry but will add some powerful context to your profile photos.
If you're creative, find a way to show that in your photos. You might bring your camera, sketchpad or iPad along so you can look like you're shooting, drawing or designing in your photos. Musical instruments, favourite books, skateboard, drum sticks, a bunch of flowers, your dog even – can all play a cool role in telling people more about who you are. Dig deep and you'll come up with some ideas that say something interesting about you.
If you ensure your 4-6 profile pictures are revealing something genuine about who you are and what makes you different and special, you'll find you start to attract a lot more of the right kind of people online and give them talking points making it easy to message you.
If you'd like to find out more about how Hey Saturday could help you with your dating profile pictures, head here.
.