Did you know it takes just 7 seconds or less for someone to get their first impression of you, so it pays off to try and ensure it's a good one! 
If you want to make a great impression on your date, then you'll need to sort out your outfits and know what you're going to wear. When you dress well it shows good manners and respect to the other person, and signifies that going on this date is important enough to you to make the effort.
But what if you know you need to up your sartorial game but don't know where to start?
Well, read on as I'm going to help you with some advice on how to create dating outfits that leave the best impression. You'll be able to increase attractiveness and guarantee second dates.
You'll need to have a few different outfit options for various dates – casual ones for when you meet in the daytime for a coffee or brunch or a walk in the park. And then some smart casual ones for evenings at the pub or going for something to eat and then a few smarter ones for fancier restaurants and cocktail bars.
Ideally, you'll get together a capsule wardrobe of pieces that work well together, so you can mix and match them to scale up or down the formality according to the date. When you're shopping ask yourself if each thing you buy goes well with 3 other things, and pick the things that are most versatile. You can then add some interest with accessories.
Men's Outfits for Casual Dates
So, for the casual outfits I'd suggest some variation of jeans, T-shirt, & trainers. You can adapt this to your own style but the basis of this look would be a fitted crew neck t-shirt or polo shirt, slim dark jeans and white, tan or navy plain leather or suede trainers. You can add in a fine knit sweater in a crew or quarter zip style in a neutral colour like navy or grey or choose something brighter – just make sure it suits you – hold it up against your face to see if it does anything for you, rather than just deciding if you like the colour or not. Finish with a casual jacket like a Harrington or bomber jacket or an overshirt, and you've got a classic casual look. Adapt it to your personality, so for instance, if you like more of a rugged look you could wear a leather or suede jacket or if you don't wear trainers, try a pair of brown suede desert or chukka boots instead. You could also add some accessories – a silver pendant for a younger look, or a patterned cotton scarf if you'd like to add a touch of colour. Perhaps have a belt that tones with your trainers / shoes – whether that's a similar brown or it could be a multicoloured woven one to add some interest. Or maybe some cool sunglasses, or an umbrella if you live in the UK!
Even though you're dressed casually, you want to look well put together and fresh, so don't forget your grooming – that goes for your clothes and your personal grooming. Whether you're clean shaven, have stubble or a beard, make sure it looks neat and trimmed. Check your fingernails are clean, get a haircut a few days before and use some product in it if it has a tendency to be dry or flyaway. Use a clothes brush on jackets/coats, and de-bobble your sweater if you're wearing one. Ensure your trainers are clean or shoes polished and everything is washed, pressed and in good condition.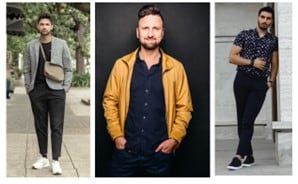 Smart Casual Dating Outfits For Men
For casual evening dates at a gastro pub or going for dinner, I'd elevate your outfit a notch and wear a shirt and / or a blazer. A shirt with a button-down collar always sits neatly in the smart casual bracket, and you could pair that with jeans again or a chambray (lightweight denim) shirt goes well with chinos & boots or trainers. You could wear the same jacket you as you're using for daytime or opt for a casual blazer. When you're creating your outfit, think of it as a formula – if you wear 1 part formal (shirt) and 2 parts casual (jeans + trainers) it's more on the casual side. If you wear 2 parts formal (chinos + blazer) then you can keep the rest more casual (t-shirt & trainers) to ensure you get the balance right.
No matter what combination you decide on, nothing will look good unless it fits properly……this is the number one rule in menswear! Common mistakes I notice with blazers are either having the cuffs too long or the length too short, (bum freezer blazers are out of style now!) buttons pulling when done up or shoulders falling beyond the natural shoulder. I often see jeans and trousers stacking up in folds over shoes, or shirts with handfuls of fabric swimming around the back. Find a good alterations tailor local to you and take all the things you have in your wardrobe that don't fit properly there. It's really worth it as it makes all the difference to your outfit, and by the way, if you're getting your jeans shortened, make sure you ask for the original finish so they keep the worn in look that jeans hems have.
Smarter Outfit Ideas For Great Dates
If you add in one more piece of tailoring to your formula, you can instantly ramp up your outfit again for smarter restaurants and bars. Your shirt could be one with a stiffened collar which will make it a little more formal and if you add that to tailored trousers, you've already got an elevated look. Finish with a blazer and you've gone even further.  When choosing a blazer, take into consideration your body shape and if you're very slim stick to slimmer lapels, or if you're a big guy go for wider ones – otherwise you'll look out of balance. And also, if you happen to do your blazer up, then only fasten the top button if it's a 2 button jacket, never the bottom one.
When you combine a jacket, and tailored trousers or chinos, you need to have some contrast between the colours so one's lighter and the other is darker. Alternatively, have some texture or pattern in the jacket……if the fabrics / colours are too similar, it can look like you've got a mismatched suit on. To save it from looking too business like, choose a more casual blazer which will have one or all of the following details….patch pockets, no lining, minimal padding in the shoulders. The cloth it's made from will also make it more casual, so look for cotton, linen or seersucker rather than wool.
These are the basic outfits you'll need to be able to mix and match, so they cover most situations, which you can then adapt to your own style so you feel comfortable and confident.
And if you're thinking "but I don't have a style" – don't worry, I'm sure you do – you just need to rediscover it! One way to do this is to collect images of outfits you like, then try to identify what it is you like about them and see if there's a common thread that runs through the looks you've picked. It could be the colours, textures, whether the things are plain or patterned, combinations of shirts and trousers, overall silhouettes etc.
Another way to do it, is to have a look at the outfits you've chosen or a celebrity who's style you like and pick 3 words to describe that style. Eg. If you applied this to George Clooney his 3 words might be classic, simple, sophisticated. Jeff Goldblum might be colourful, exotic, experimental. Steve McQueen might be casual, masculine, rugged.
Then pick an element of what you like, and try to incorporate that into every outfit. So taking the above examples – if you like George Clooney's style then make sure you stick to classic well-fitting pieces, and pay particular attention to your grooming and finishing off your outfits with understated accessories. If you prefer Jeff Goldblum's style then add one unusual item to your outfit – it might be a bright sweater, an unusual scarf, or some statement glasses. And if you prefer a Steve McQueen look then have a pebbled leather belt, a linen blazer, or a check overshirt so you make sure you have an element of outdoorsy, ruggedness to your outfits.
To recap then, you'll need a selection of clothes in varying degrees of formality, that fit well, are in good condition and look modern and up to date. You need to put some thought into how they work together and how to finish off with accessories, so you bring your own style into play and give a little glimpse into your personality. When you combine all of this, you'll have dating outfits that leave a great lasting impression!
And if you don't fancy attempting this by yourself, then I can help. I'm Sarah Gilfillan – a personal stylist and personal shopper for men and founder of Sartoria Lab. I help men get together great dating outfits, quickly and easily, with my personal shopping and styling services, and I'd love to help YOU! Get in touch to discuss how I can help.